Mi treege volas havi la libron "
Heretics and Colonizers:
Forging Russia's Empire in the South Caucasus
" de Nicholas Brenton Breyfogle, Ph.D. (pri historio).
En la libro temas pri miaj prapatroj, molokanoj de Kaŭkazio.
Se iu volas fari agrablegan surprizon por mi
, tiu donacu al mi la libron aŭ revendu moderpreze (partapreze, kontraŭ iu nemona repago ks.).
Multe pli da detaloj pri la libro (inkluzive la enhav-tabelon)
troveblas en la paĝaro Molokane.org
.
Kaj jenas la kovrilo: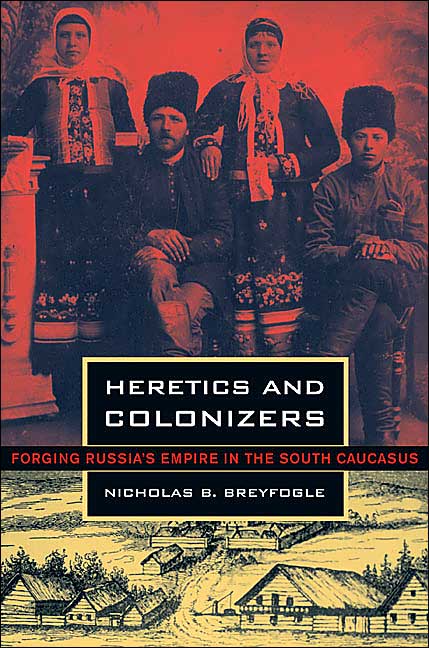 Ankaŭ interesas min io ajn el la ĉi-suba
listo
(parto de la listigitaj libroj, kredeble, aĉeteblas de
molokane.org
):
Цитата:
N. Dingel'shtedt, Zakavkazskie sektanty v ikh semeinom religioznom bytu (Transcaucasian Sectarians in their Family and Religious Life). St. Petersburg, 1885

V.I. Kozlov, Ed., Russkie Starozhily Zakavkaz'ia: Molokane i Dukhobortsy (Russian early settlers of the Transcaucasus: The Molokans and Dukhobors). Moscow: Institut of Etnologii i Antropologii RAN, 1995. 299 p. - Narody i Kul'tury - pbk. ISSN 0868-586X. $15.50. In Russian. A multidisciplinary study of the sectarians adaptation to the new natural, ethnic, cultural and linguistic environments. Contents and summary in English. Includes bibliographic references. (To order from the publisher.)

Fedor V. Livanov, Istoriia Dukhovnykh Khristian Molokan (History of the Spiritual Christian Molokans). St. Petersburg, 1872.

Willard Burgess Moore. Russian Molokan religious legends. Masters thesis. University of California, Berkeley. 1971

Richard Haas Moore – Prisoners in the promised land : the story of the Molokans in World War I. Masters thesis. Arizona State University. 1972.

Richard A. Morris -- Three Russian Groups in Oregon: Comparisons of Boundaries in a Pluralistic Environment. PhD thesis. University of Oregon. 1981.

Therese Muranaka -- The Russian Molokan colony at Guadalupe, Baja California : continuity and change in a sectarian community. PhD thesis. University of Arizona. 1992.

Sidney Jackson, The Molokans: A Study of a Religious Minority, unpublished paper in Intensified Studies, the Social Studies Division, George Fox College, Oregon, 1962

*Maxim G. Rudametkin, Selections From the Book of.Spirit and Life Including the Book of Prayers and Songs, introduction and translation by John K. Berokoff,Whittier, CA, 1966.

*John K. Berokoff, Molokans in America, Whittier, CA, 1969

Willard B. Moore. Molokan Oral Tradition: Legends and Memorates of an Ethnic Sect. University of California Publications: Folklore Studies, 28. Berkeley: University of California Press. 1973.

*Ivan G. Samarin, Ed., Dukh i Zhin' (The Spirit and the Life), 3rd edition. Los Angeles, CA, 1982.

Dr. Stephan P. and Ethel Dunn, Collectors , Molokan Heritage Collection - Volume 1: Reprints of Articles and Translations. Collected. Highgate Road Social Science Research Station. 200 page book. Contains the best 11 articles from our library about the Molokans. Besides many short topics about peasant life in Russia, settlement in the Transcaucasus, changes in Spiritual Christianity and its impact on the country, it features a description of a Molokan wedding 100 years ago. $20.00

Dr. Orhan Türkdogan, Molokan Heritage Collection - Volume Vol. II - Molokans in Turkey. Edited and enhanced by the Highgate Road Social Science Research Station. 250 page book, 1972. Details about the 1,500 Molokans who stayed behind in Kars until they returned to Russia in 1962. We had this Ph.D. thesis translated from Turkish and added more data, photographs, diagrams, maps, and tables. Did you know that the Pryguny ate red eggs during Paskha? Did you know about the breeds: "Molokan horse" and "Molokan dairy cow"? WORK-IN-PROGRESS

*A.J. Conovaloff, Molokan Heritage Collection - Volume III - Where Molokans Lived in Russia. Highgate Road Social Science Research Station. Four-color topographic map, 3 feet by 4 feet, with index, in-progress. Large wall map showing over 300 original village place names. Coded for sect (Molokan, Dukhobor, etc.), settlement date, and population. Cross-referenced by Russian and phonetic name, district, and republic. WORK-IN-PROGRESS

Dr. Linda O'Brien-Rothe, Molokan Heritage Collection - Volume IV - The Origins of Molokan Singing. Highgate Road Social Science Research Station. 60 page book and 45 minute tape. Taped and musically notated examples show how Molokans borrowed melodied from old Russian village folk songs. Proofread by over 70 Molokans. $20.00

A.I. Klibanov, Molokan Heritage Collection - Volume V - Spiritual Christian Communalists in 19th Century Russia, translated by Dr. Stephan P. Dunn and Ethel Dunn, Highgate Road Social Science Research Station. 300 page book. More information about Molokan life in the Caucasus. A sequel to Klibanov, Volume 0. WORK-IN-PROGRESS

Susan W. Hardwick, Russian Refuge: Religion, Migration, and Settlement on the North American Pacific Rim . University of Chicago Press, 1993.

Susan W. Hardwick, "Religion and Migration: The Russian Molokan Experience," Yearbook of the Association of Pacific Coast Geographers , Vol. 55 (1993), pp. 127-141.

*John K. Berokoff, Selections from the Spirit and Life. 196_

*William W. Prohoroff, Maxsim Gavarilovich Rudometkin King of Spirits Leader of New Israel Molokans. 1970

*George W. Mohoff, -- The Russian colony of Guadalupe : Molokans in Mexico. 1993. 226 pages with map.

*Bill William Babishoff, Sermons of the Beliefs and Doctrines of the Christian Russian Molokan Faith for Church and/or Home. 1994. 302 pages

*Bill William Babishoff, Prayers from the Molokan Prayer Book with Translation in English, 199_

*Peter P. Shubin, Molokan Christian Brotherhood of America. 199__ booklet.

*UMCA, Christian Molokan Holy Days, 199_ booklet.

*Andrew J Berokoff, Molokans Making Decisions: Part I: Molokans and the "Melting Pot", 32 pages; Part II: Molokans and War, 29 pages; Part III: Diary of John K. Berokoff World War II Excerpts, 25 pages. 1998.

*Fae Veronin, Arizona Molokans. 1999.